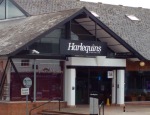 A former collection of shops all under cover!
Access to Exeter's Harlequins Shopping Centre can be found just around the corner from the Royal Albert Memorial Museum in Paul Street. Pedestrian access is also available via the Guildhall Shopping Centre that links via a walkway over Paul Street. The mall onced housed speciality shops selling gifts, jewellery and designer fashions in a continental style. Today the centre is all but boarded up and awaiting redevelopment with recent plans unveiled for a 'co-living' scheme, and a hotel featuring a bar and restaurant.
Exeter Harlequins Centre
Parking for the Guildhall and the Harlequins centres is available through the adjoining multi-storey car park that can be reached from Paul Street.
Shops in the Harlequins Shopping Centre
Shops include:

Exeter Shopping Directory
Restaurants & Refreshments
Restaurants include:
Exeter Restaurants Directory
Places to See
Places to see in or near the Harlequins Shopping Centre include:
Exeter Phoenix Arts & Media
Parking
Car parking close by at:
Guildhall Shopping Centre Car Park, Mary Arches Street Car Park
Accommodation
Nearby accommodation:
Rougemont Hotel in Queen Street
City Gate Hotel in North Street (Iron Bridge)
Nearest available accommodation to Harlequins Centre
---
More Exeter Shopping
Exeter Shopping
Shopping Areas
Shopping Area Map
Shopping Directory
---