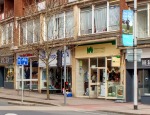 Home to the entrance of Exeter's Underground Passages
One side of Paris Street forms the start of the Princesshay / Cathedral Quarter. Princesshay is home to the vibrant and pulsating shopping centre that extends right down to magnificent Cathedral and has brought many top brands to the city helping make Exeter the regions favourite shopping destination. Paris street leads on to the High Street and Sidwell Street areas and is the location of the entance to the medieval subterranean passageways that lie beneath the city.
Exeter Paris Street
As well as the shops along the route and the main Park and Ride stop, Paris Street is also the location of Exeter's Civic Centre and the entrance to the Underground Passages.
Shops in Exeter Paris Street
Shops include:
Streamers, Bake, and Shopmobility.
Exeter Shopping Directory
Restaurants & Refreshments
Outlets include:
Exeter Restaurants Directory
Places to See
Places to see in or near Paris Street include:
Parking
Car parking close by at:
Princesshay Car Park, Bampfylde Street Car Park
Accommodation
Nearby accommodation:
Jurys Inn, Western Way
Southgate Hotel, Southernhay
Nearest available accommodation to the Paris Street
---
More Exeter Shopping
Exeter Shopping
Shopping Areas
Shopping Area Map
Shopping Directory
---